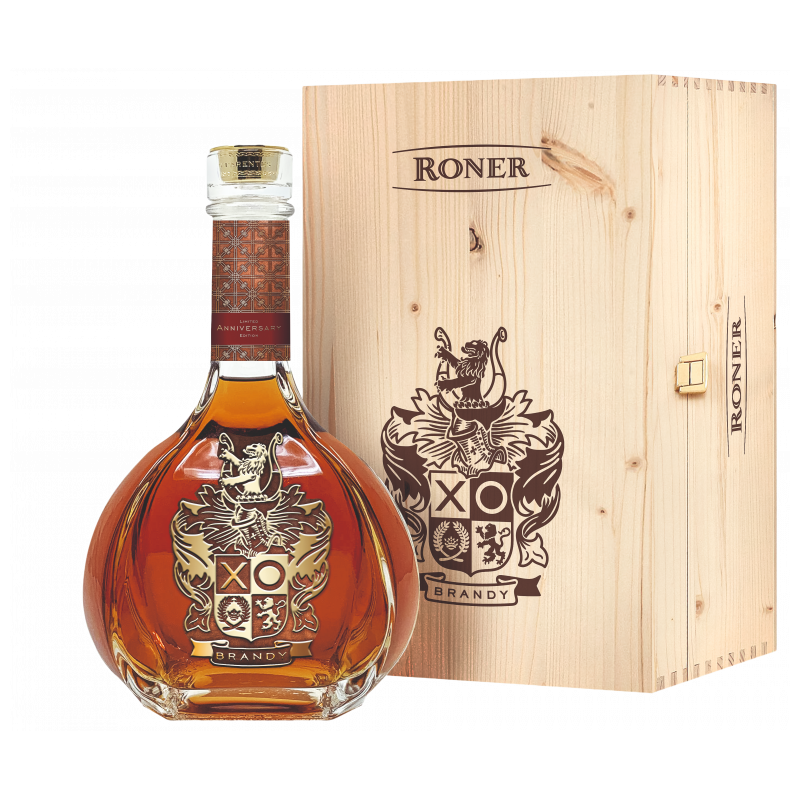 Brandy XO
Vintage 2012
Alcohol content 40 % vol.
Content 0,7 l
Art. no. 000090
This Brandy XO, vintage 2012, is a jewel from the Roner family cellar. Ist story is written inside the wooden box.
Distilled with craftsmanship from a cuvée of exquisite white wines, it has been refined and aged in barrels of sweet Gewürztraminer wine, grappa and Amarone.
Mysterious on the nose and powerful on the palate, it captivates with notes of prunes, figs, and raisins.
Playfully sweet at times, then spicy and tangy, culminating in a harmonious finish, the one who tastes it experiences a real firework of wood notes and wine aromas.
Bottled on Ms. Gudrun Roner's anniversary, Brandy XO is presented with a limited edition and proudly bears our family crest.
Aging 10 years in amarone-grappa and Gewürztraminer sweet wine barrels
Color / Limpidness Amber, limpid
Olfactory note Fruity, fine, notes of dry plums, figs, and raisins
Flavor Sweet to spicy, with hints of wood and wine aromas
After taste Harmonious, persistent
The perfect occasion Gourmet
Serving recommendation Robust dark chocolate
Drinking temperature Serve at 18°C
Storage Store in a cool and dark place
BOTTLE | GL70 | glass waste
CLOSURE | GL70 | glass waste
CAPSULE | PVC3 | plastic waste
WOODEN BOX | FOR50 | separate waste collection
Check the regulations of your country