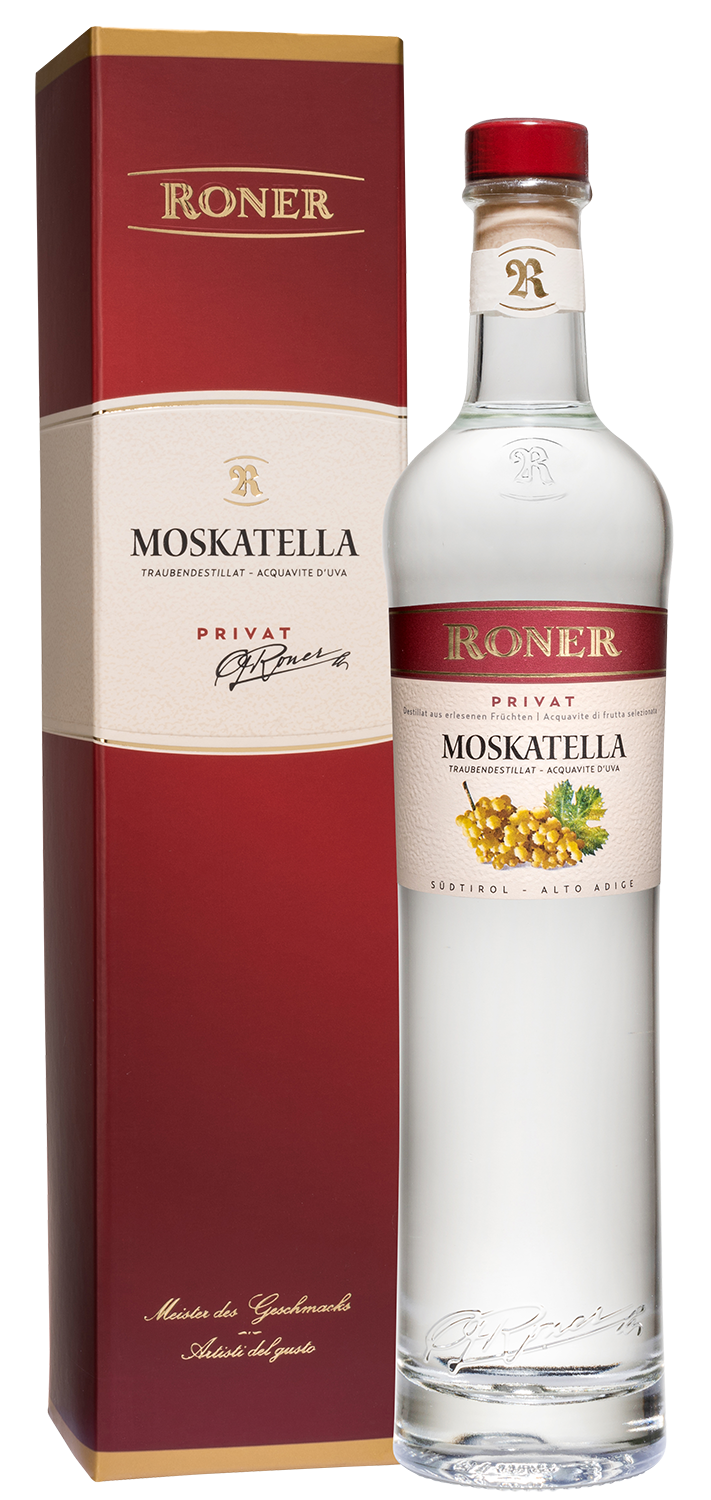 Moskatella Privat - Muscat grape distillate
Alcohol content 40 % vol.
Roner Moskatella Privat in single carton (1x 0,5l) - Muscat grape distillate, traditionally distilled in South Tyrol by the most awarded distillery in Italy
The perfect occasion
Romantic date
Drinking temperature
Serve at 5°C
Storage
Keep in refrigerator
Product information
Original Moscato pomace distillate by Roner. Distilled with small copper stills according to the traditional method in Tramin on the Wine Road. Aged for 1 year in stainless steel tanks. Gift box included.
The finest yellow Muscat grapes are used in their entirety for this sought-after and precious distillate, made by the ancient bain-marie still method.
Floral and inviting aroma, enveloping and delicate on the palate with a sweet aftertaste. The pulpy aroma of the berries emanates harmoniously, fine and fragrant, from every drop of this fine brandy.
Perfect with robust cheeses and delicately smoked cured meats.
Distillation in small copper stills preserves intact flavors and aromas to render them to the palate and nose in their original intensity and harmony.
Aging At least 6 months in inox tanks
Color / Limpidness Limpid, brilliant
Olfactory note Very intense, typical
Flavor Typical, fruity, elegant
After taste Very persistent, light taste of almond
The perfect occasion Romantic date
Serving recommendation Strong cheeses, delicately smoked charcuterie
Drinking temperature Serve at 5°C
Storage Keep in refrigerator
BOTTLE | GL70 | glass waste
CLOSURE | 7 | plastic waste
CAPSULE | PVC3 | plastic waste
PACKAGING | PAP20 | paper waste

Check the regulations of your country