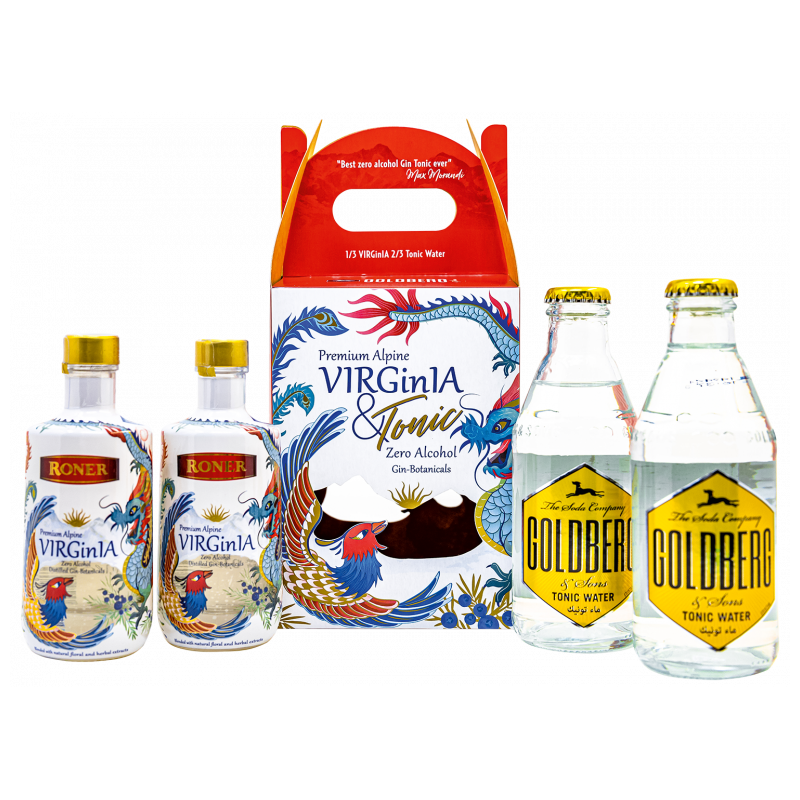 Virginia & Tonic
Non-alcoholic
Content 2 x 0,1 l | 2 x 0,2 l
Art. no. 000769
2 × VIRGinIA (non-alcoholic) 0,1l and 2 × Goldberg Tonic Water 0,2l in a great gift box. A complete set with a juniper base and tonic water to make four non-alcoholic gin and tonic.
Non-alcoholic juniper base for cocktails. Eight premium alpine botanicals: juniper, lavender, mint, lemon balm, yarrow, chamomile and sage. Alcoholic strength: 0.00% vol.
The gin botanicals used in this juniper base enriched with natural flowers and herbal extracts create a non-alcoholic gin that will make cocktail lovers' hearts beat wildly.
With an aroma reminiscent of a fresh mountain meadow, it embodies all the traditional characteristics of gin: juniper, lavender, and mint. Intense in lemon balm and yarrow, persistent in taste and aromatic in the end.
With our "Virginia & Tonic" kit, you will be the bartender of the evening: A perfect gift to enjoy some non-alcoholic Gin Tonic!
Color / Limpidness Light yellow
Olfactory note Fresh lemon balm, juniper
Flavor Intense, round, very delicate to drink; harmonic and balanced with the taste of the apple
After taste Long lasting and delicious
The perfect occasion Romantic date
Serving recommendation Enjoy a Virginia with Goldberg Tonic Water
Drinking temperature Serve at 5°C
Storage Keep in refrigerator
VIRGinIA:
BOTTLE | GL70 | glass waste
SLEEVE | PVC3 | plastic waste
CLOSURE | C/LDPE90 | plastic waste
CAPSULE | PVC3 | plastic waste
TONIC:
BOTTLE | GL70 | glass waste
CLOSURE | ALU41 | aluminium waste
PACKAGING | PAP21 | paper waste
Check the regulations of your country