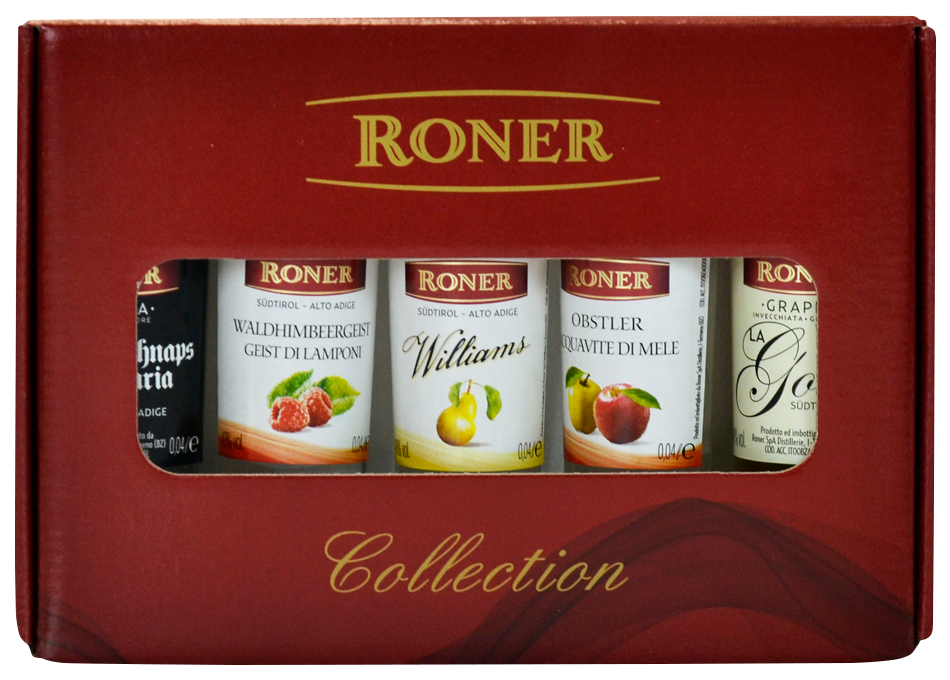 Mignon: Distillates & Grappa
Roner Set Mignon Distillates (5x 0,04l) - Farmer's Grappa, La Gold, Williams, Obstler, Forest raspberry brandy, traditionally distilled in South Tyrol by the most awarded distillery in Italy
The perfect occasion
Gourmet
Drinking temperature
Serve at 16°C
Storage
Store at room temperature
Product information
A selection of 5 grappas and fruit distillates mignon to discover the diversity of scents and flavors: a journey into taste! Gift box of Roner distillates.
Set includes following mignons:
Grappa dell'Agricoltor (1x 4 cl) | 47% vol.
La Gold Grappa Aged (1x 4 cl) | 40% vol.
Williams (1x 4 cl) | 40% vol.
Obstler - Apple distillate (1x 4 cl) | 38% vol.
Waldhimbeergeist - Raspberry Geist (1x 4 cl) | 40% vol.
From the rich variety of nature's palette, we create spirits that capture the full, pulpy taste and aroma of ripe fruit.
Box of 5 assorted fine spirits, brandies and fruit brandies to discover the full range of flavors and aromas, or for those who can't make up their minds! Ideal gift idea for friends and family.
Mignon of selected grappa and fruit spirits from the house of Roner, Italy's most awarded distillery. Produced and bottled in Tramin on the Wine Road. Original from South Tyrol.
Flavor Well balanced, fresh
After taste Very persistent, fruity
The perfect occasion Gourmet
Serving recommendation Dark chocolate, fresh and delicate cheeses and coffee
Drinking temperature Serve at 16°C
Storage Store at room temperature
BOTTLE | GL70 | glass waste
CLOSURE | C/ALU90 | aluminium waste
PACKAGING | PAP20 | paper waste
Check the regulations of your country