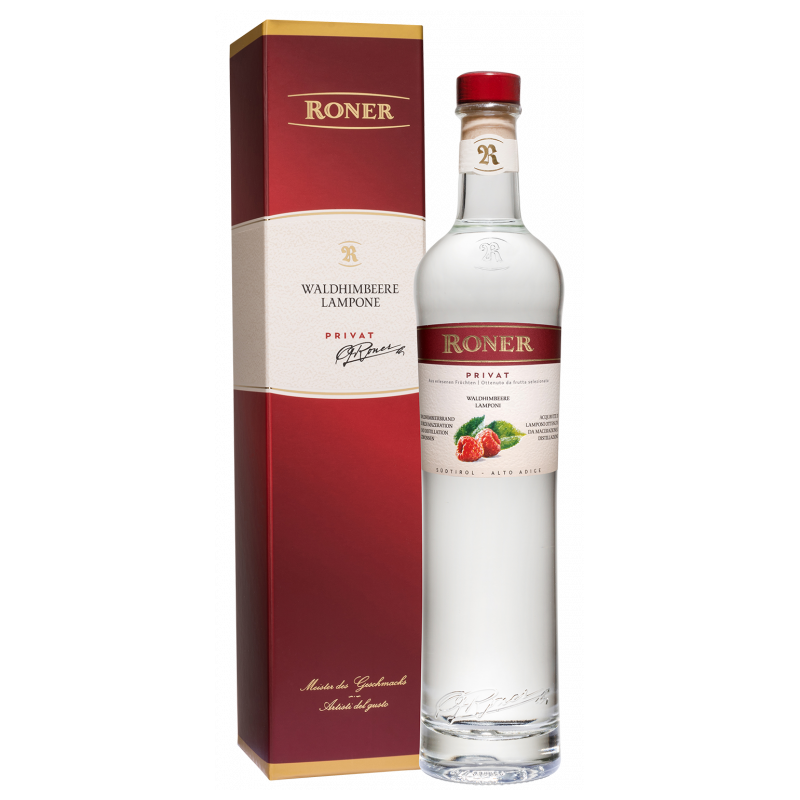 Himbeere Privat - Raspberry brandy
Alcohol content 40 % vol.
Content 0,5 l
Art. no. 000163
Original raspberry distillate from South Tyrol by Roner. Distilled with small copper stills according to the traditional method in Tramin on the Wine Road. Aged for 1 year in stainless steel tanks. Gift box included.
Small and precious, wild forest raspberries are carefully selected to give the fullness of their aromas in their original intensity and harmony.
The raspberry captivates with its fruity aroma on the nose, refreshes the palate and flatters with its pleasant mildness in the finish.
To be enjoyed together with dark chocolate.
Thanks to the gentle distillation in small copper bubbles, you can enjoy the full fruitiness and exceptional delicacy of raspberry in every sip.
Aging At least 6 months in inox tanks
Color / Limpidness Limpid, brilliant
Olfactory note Very intense
Flavor Harmonious, lovely, round
After taste Full, very intense, persistent
The perfect occasion Gourmet
Serving recommendation Dark chocolate
Drinking temperature Serve at 5°C
Storage Keep in refrigerator
BOTTLE | GL70 | glass waste
CLOSURE | 7 | plastic waste
CAPSULE | PVC3 | plastic waste
PACKAGING | PAP20 | paper waste
Check the regulations of your country